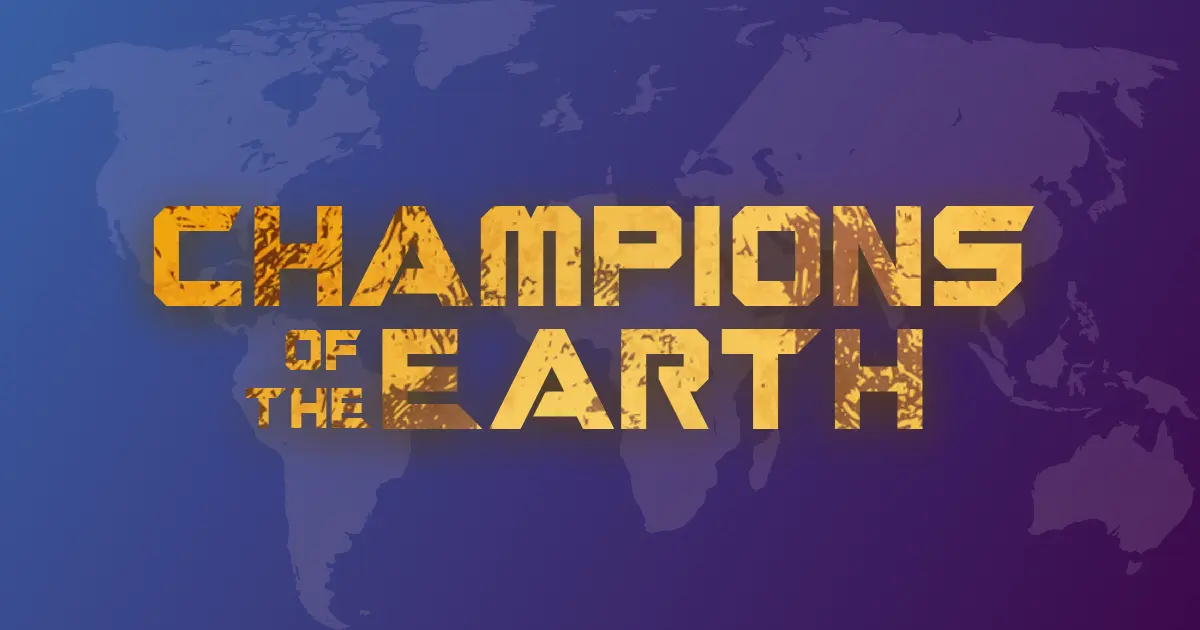 Blog
/

What if your were the next Champion of the Earth?

Are you tired of the depressing information on the state of the planet? Good news: every year since 2005, the United Nations Environment Programme (UNEP) has been awarding the Champions of the Earth prize worldwide. This is an opportunity to showcase "outstanding contributions to the protection and restoration of the environment"1, whether by governments, members of civil society or the private sector. The other good news? You can nominate your own candidates until March 20!

"At a time when humanity continues to destroy the environment, we pay tribute to the individuals, communities, businesses and governments that are making an extra effort to protect the Earth" said Inger Andersen, UNEP's Executive Director. The four categories considered for the Champions of the Earth award are "Policy Leadership", "Inspiration and Action", "Entrepreneurial Vision" and "Science and Innovation". There are three selection criteria: "Impact", "Novelty" and "Strength of History". For each proposal, the aim is to assess its present and potential benefits to the environment (including the possibility of replicating it on a larger scale), its degree of innovation and its potential to inspire and convince.

For example, in 2019, UNEP gave its Science and Innovation award to the Canadian climate scientist Katharine Hayhoe for her work in "quantifying the effects of climate change", as well as for her efforts to disseminate information to the general public through lectures, interviews, podcasts, radio broadcasts, books, etc. In her own words: "What matters most to me, personally, is when someone tells me, sincerely, that they have never cared about climate change before, or even thought it was real. But now, because of something they heard me say, they've changed their mind. That's what makes my efforts worthwhile."

The "Inspiration and Action" award went to Ant Forest, a reforestation programme aimed at combating desertification, reducing air pollution and protecting the environment. Launched by Ant Financial Services Group, a subsidiary of Alibaba, Ant Forest encourages its users to record their carbon emissions in their daily lives online and reduce them. When they do so (for example, by taking public transport or using online utility bill payment services), Ant Forest rewards them with "green energy" points. When enough points are accumulated, a real tree is planted. The program also gives users the possibility to view their trees in real time, via satellite. Since its launch in 2016, the Ant Forest program and associated NGOs have planted 122 million trees in some of the most arid regions of China, covering 112 thousand hectares.

Costa Rica won the "Policy Leadership" award for its Plan to Decarbonize its economy by 2050, in line with the Paris Climate Agreement and the UN's Sustainable Development Goals. "The decarbonisation plan consists of maintaining an upward curve in terms of economic growth in employment and, at the same time, generating a downward curve in the use of fossil fuels to stop pollution. How are we going to achieve this? Through clean public transport, smart and resilient cities, rational waste management, sustainable agriculture and improved logistics," said President Carlos Alvarado Quesada. The goal is to produce no more emissions than the country is capable of offsetting, including through the maintenance and expansion of forests.

Finally, the "Entrepreneurial Vision" award went to the Patagonia clothing brand. What differentiates it from other brands? Nearly 70% of its products are made from recycled materials, especially plastic bottles. Its goal is to use 100% renewable or recycled materials by 2025. The company also uses hemp and cotton from organic farming. The brand also has a "Worn Clothing" programme to encourage customers to repair and recycle their items, in contrast to "fast fashion", which advocates unbridled consumption and waste.

Do you know of any individuals or initiatives that would deserve the Champions of the Earth award? It couldn't be easier: nominate them.

And if you think you're still a little far from the United Nations category, why not make your own Champion of the Earth award, within your company, your school or your family? At your level, symbolically motivate the person or group that has done the most actions in favour of the environment in a given time: use of public transport, recycling, reduction of printing, compost, reuse of materials, barter, etc. Sow champions!

Yasmina is a geographer. Her travels started when she was very young, through books. It continued when she discovered geograhy in class and then with a bag on her back.