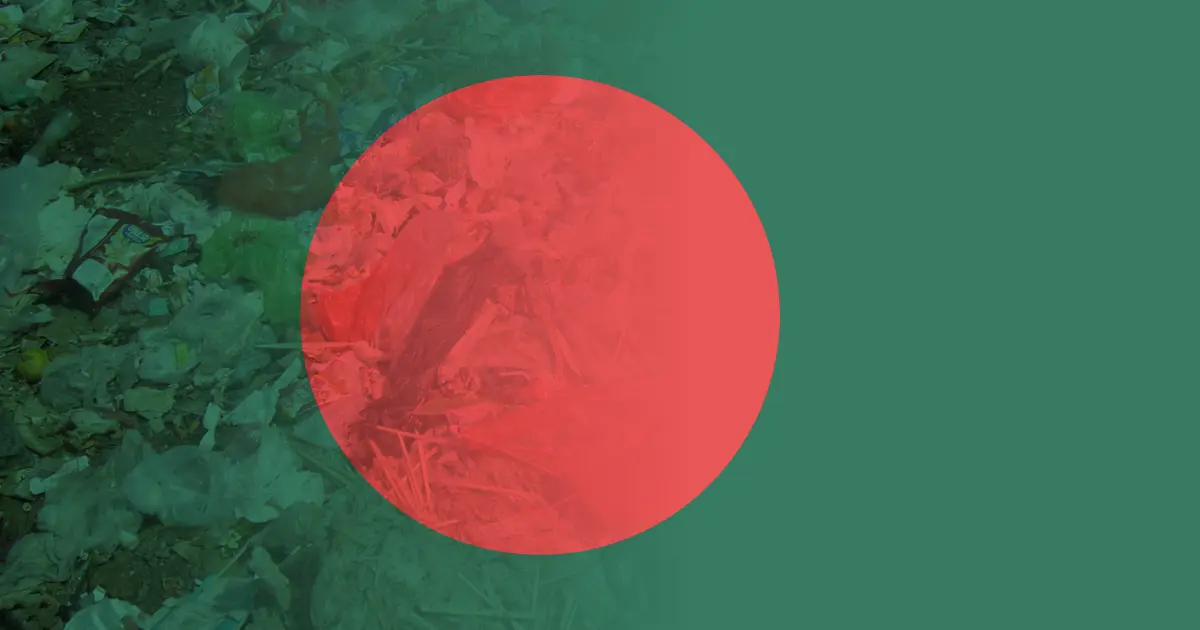 Blog
/

Dhaka, from pollution to action

In 2016, the World Health Organization (WHO) ranked Dhaka (Bangladesh) as the 3rd most polluted city in the world1. To establish this classification, the WHO takes into account the concentration of airborne particles according to their PM10 content (particles less than 10 micrometers in diameter). 158μg/m3: this is the particle rate of the city of Dhaka, which is almost 8 times the rate recommended by the same organization (20μg/m3).

While some of these particles are of natural origin (e.g. volcanic eruption), others are of anthropogenic origin (wood heating, industrial processes, vehicle combustion, etc). In all cases, these particles are fine enough to enter the lungs or even the bloodstream if they are less than 2.5 micrometers in diameter (PM2.5). Chronic exposure to these particles "contributes to the risk of developing cardiovascular, respiratory and lung cancer" (WHO2).

According to WHO, in 2016, an estimated 4.2 million premature deaths were caused worldwide by ambient (outdoor air) pollution in urban, peri-urban and rural areas.

In addition, according to Germanwatch, in 2019, Bangladesh is the 9th country in the world most affected by extreme weather events in terms of human and material losses3. Floods, landslides, cyclones, Bangladesh is exposed to many hazards: some may remember Cyclone Sidr, which struck the country in November 2007, killing about ten thousand people. These events will be increasingly frequent with climate change, accompanied by new challenges: experts consider that the country could lose 18% of its territory due to the rise in water levels "transforming 30 million people into ecological refugees by 2050." (UNDP).

Faced with this rather pessimistic picture, Bangladesh nevertheless seems to be showing signs of recovery. Long classified as a "Least Developed Country" by the UN, Bangladesh is expected to move from this category to the "Middle Income Countries" category in the near future. Indeed, since 1990, its Human Development Index, which takes into account the GDP per capita, life expectancy at birth, as well as access to education has almost doubled (from 0.387 to 0.608). While this general picture should not obscure the fact that 63 million people, or 17% of the population, still live in extreme poverty, and that democracy remains a sensitive subject4, it is nevertheless encouraging.

Encouraging like this promising initiative we would like to share with you this week, to jointly address three topics: the environment, health and risks. From December 18 to 20, 2019, an international symposium will be held within the campus of the University of Dhaka, entitled: "Health at risk in a world of degraded environment and recurrent disasters". Organized by the Institute for Disaster Management and Vulnerability Studies (IDMVS), University of Dhaka, as well as by the International Society for Photogrammetry and Remote Sensing (ISPRS), this is the first event of its kind to be held in Bangladesh. The scientific committee is composed mainly of doctors from Bangladesh, India, the United States and France.

Topics covered include: analysis of geospatial data, the role of Information and Communication Technologies (ICTs) in solving health problems, health problems during disasters, the negative impacts of climate change on health, soil pollution and its impact on health, health disparities, etc.

The meeting aims to promote the exchange of good practices, to raise awareness of innovations in these areas and, above all, to build bridges between the scientific community, decision-makers and people on the ground, in order to coordinate efforts to enable Bangladesh—but not only—to achieve the Sustainable Development Goals (SDS), including Objective 3: "Enabling all to live healthy lives and promoting the well-being of all at all ages", as well as the priorities of the Sendai Framework for Action for Disaster Risk Reduction, the two international agreements at the center of this symposium.

We are particularly committed to this meeting because it is the result of the initiative of those most concerned with environmental issues and climate change, and because it is held in the very place where the challenges and needs are most acute. It seems to us to reveal these local insights, the impact of which should not be neglected, although their media coverage is almost non-existent. For our part, we can only wish that this symposium will be fruitful and the first of many.

December 14, 2019
Yasmina Guira
linkedin
Yasmina is a geographer. Her travels started when she was very young, through books. It continued when she discovered geograhy in class and then with a bag on her back.